Bivalent Vaccine Booster Shot Update 9/16/22
Mille Lacs Health System will offer COVID-19 Bivalent vaccine booster shots at the Mille Lacs Health System Community Pharmacy in Isle and at the Mille Lacs Health System Family Medicine Clinic in Onamia. The new vaccine was formulated to address the Omicron variant and was recently approved by the FDA.
The vaccine clinics will be held on Tuesdays and Thursdays at the pharmacy in Isle beginning on Tuesday, September 28. These clinics are limited to adults 18+.  Vaccines will be offered daily at the Onamia Clinic of Mille Lacs Health System for children 12+ beginning on October 3.  Proof of vaccination is required, and appointments can be made by calling 320-676-3115 for the pharmacy in Isle or 320-532-3154 for the Onamia Clinic. The hours in both locations are 9:00 a.m. to 5:00 p.m. You will be reminded to bring your vaccination card at the time you make the appointment.
This vaccine can only be given to those who have completed the primary series of COVID-19 vaccinations (the first two shots). One does not have to have had the booster shots (shots three and four) to be eligible for this new vaccine booster. The cost of the boosters is covered 100% by most insurance plans.
 The Pfizer Bivalent vaccine is for anyone 12 years and older; the Moderna vaccine is for anyone 18 years and older.  Mille Lacs Health System currently has the Pfizer Bivalent vaccine on-site. The Moderna vaccine has been delayed a few weeks due to distribution issues.
The new Bivalent vaccine booster has been reformulated to include the newest variant Omicron BA.4 and BA.5 and is compatible and interchangeable with the Pfizer and Moderna vaccines. The COVID-19 virus changes over time and it's important to keep one's protection up to date. The updated vaccine includes components of the original virus strain as well as the Omicron variant.
The updated booster you receive does not have to be from the same manufacturer that made the vaccine you received for your primary vaccination or previous booster. If you have not been vaccinated, you are not eligible for this new booster shot.
Mille Lacs Health System will also be offering influenza shots beginning October 1. It may be more convenient for you to get both shots at the same time. If you prefer this option, tell the pharmacist or clinic staff at the time you make your appointment.
Vaccine and Booster Update 8/31/22
Mille Lacs Health System offers COVID vaccines (Moderna, J&J, and Pfizer) at all four clinic locations (Onamia, Isle, Garrison, & Hillman).
The CDC has updated their recommendations for COVID-19 boosters for Fall 2022.  Covid-19 boosters are recommended for everyone 5 years of age and older.  Children ages 5-11 should receive one dose of a monovalent booster (Pfizer & Moderna).  Children and teens ages 12-17 should receive one dose of the new Pfizer bivalent booster.  Adults ages 18 and older should receive one dose of either the new Pfizer or Moderna bivalent booster.
Booster schedule by age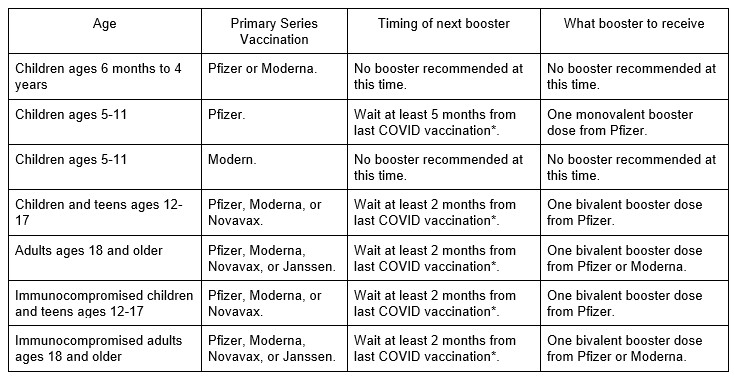 *Last COVID vaccination refers to either: (A) completion of the last dose of the primary series vaccination or (B) most recent booster dose.  If someone has yet to receive or complete primary series vaccination, it should be completed prior to receiving booster doses.
Monovalent?  Bivalent??  What's the difference???
The original primary vaccine series and boosters for COVID-19 from Pfizer and Moderna were monovalent vaccines.  Being monovalent means they only contained mRNA from the original COVID-19 virus.  The new bivalent vaccine contains mRNA from the original COVID-19 virus and mRNA from the omicron variant.  Including the original COVID-19 virus mRNA provides broad protection against COVID-19.  The inclusion of omicron mRNA provides protection against omicron strains.  Bivalent boosters are recommended for anyone ages 12 or older, monovalent boosters are only for children ages 5-11.
Vaccines/boosters can be administered at any of the MLHS clinics at a scheduled nurse visit or at a medical appointment with your family practice provider for any other reason.
To schedule a nurse visit to receive your vaccine/booster, call 320-532-3154, press option one.
For more information about primary vaccination and boosters visit the CDC's website.