Lab appointments at MLHS
August 11, 2020
---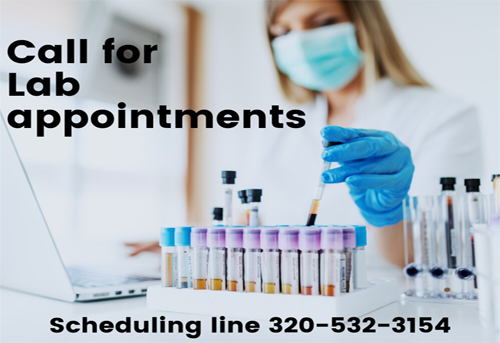 Mille Lacs Health System Laboratory Department has changed its appointment hours to 9:00-4:30, Monday through Friday, and no outpatient tests will be done on Saturday. This will be effective as of August 10th.  These are lab tests that require a doctor's order, with the patient scheduling the lab test. If a patient is in clinic, the tests can be done at the facility before the patient leaves (no separate appointment needs to be made.)
Direct Access Lab Testing, which is a program where patients can come in and get common blood tests without a medical provider's order will still be done (insurance is not billed for this; patients can pay cash or credit card for this service.) However, patients need to make an appointment for Direct Access Testing. Appointments can be made by calling 320-532-3154. Twelve different kinds of blood tests are available, which include those for thyroid function, blood glucose, liver and kidney, hemoglobin/hematocrit, lipids, and cholesterol. "Appointments are required to help keep both our staff and patients safe," said MLHS Lab Manager Laurie Rensenbrink.
Many health conditions require regular monitoring to make sure patients can continue medications or treatment regimens. Some of these include medication renewals; INR checks for people taking blood thinners; diabetes; kidney, liver, and heart disease; and thyroid issues.
Laboratory information assists medical providers in making appropriate diagnostic or therapeutic decisions for their patients. Clinical laboratory services are the most cost effective, least invasive way for your medical team to make sure your treatment is working. Lab draws are important for detection of disease, as well.
At your regular checkup, issues and concerns you have can be investigated more thoroughly with a lab test.
During this time of COVID, don't put off your regular medical care. Get your screenings, check-ups, and keep your follow-up appointments with your medical provider.
"Remember that medical care is here when you need it, however, we do want to make sure you stay safe," said Dr. Cathy Donovan, MLHS Family Practice Physician. "Don't let forgoing your care be another casualty of this coronavirus. We are doing everything we can to make sure your appointments and visits are as safe as they can be."