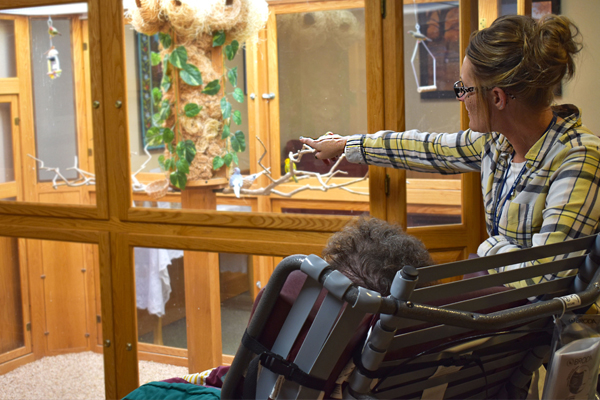 When you or a loved one needs long term care, come to Mille Lacs Health System Long Term Care. Our 57-bed facility on the campus of Mille Lacs Health System in Onamia offers care for adults who need skilled (short term) nursing needs or care indefinitely. Here, we offer a community that celebrates its diversity, honors its members, and creates a respectful place for people to heal and live. Using a "mind, body, spirit" approach, we provide resident-centered care based on the person's unique needs. At our facility, compassion and competency combine to create a culture of caring. 

Contact Long Term Care by calling 320-532-2729; Fax: 320-532-2889
Services include:
• Long Term Care
• Short Term Care
• Memory Care (Alzheimer's/Dementia unit)
Long Term Care
24-hour skilled nursing if needed
Registered Dietician
Activities, outings, family events and the latest in technology for resident engagement
Social Services
Community dining at every meal
Private areas for residents and their families to visit
Beauty salon
A beautiful outdoor healing garden
Periodic on-site dentistry, audiology, optometry
Community connections for spiritual care needs
Short Term Care
Necessary for situations where individuals just need time to get back to normal functioning. It may be after the effects of a trauma, a debilitating disease, or when a short time with rehabilitation and medical care is needed before returning home.
Memory Care
A quiet, gently secured lake view unit offering peace, open common space, and healing garden access. Consistent staffing helps provide individual care for residents' specific memory loss issues. Private rooms reflect each resident's own personality, with doorways adorned accordingly to help them "find home."
Other integrated, on-site services available:
Senior Care Unit for Geriatric Psychiatry
Hospice and Home Care
Lake Song Assisted Living
Mille Lacs Family Clinics
Rehabilitation Services
Bridge of Care (Transitional Swing Bed)
Hospital
Specialties such as orthopedics, ophthalmology, audiology, urology and podiatry
Be cared for like family in a place that feels like home. Plus, get peace of mind knowing medical professionals are always just seconds away. Should the need arise, you are on the same campus as our hospital, emergency room, and more, so you know you're never far away from care at all levels.