Local and state vaccine news
January 26, 2021
---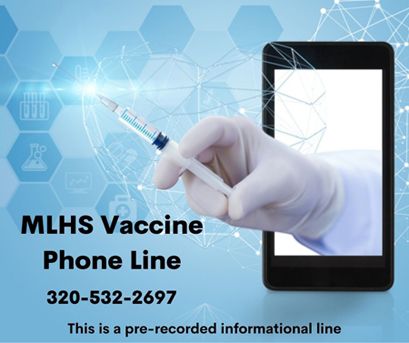 Locally, Mille Lacs Health System is not yet able to give the COVID-19 vaccine to the public. MLHS must follow state and federal guidelines. As of Jan. 27, we will not be receiving an allotment of vaccine for this next week. When the vaccine is available, the plan is (and this may change) that MLHS will contact patients 65 and older, randomly, from the patient database, for a spot in a dose queue on available days. Please do not call MLHS or your provider about this; leave those lines open for patients needing medical help. There is no waiting list, and the MLHS Vaccine Task Force reminds patients, "Please wait until we call you, please don't call us." The best way to find timely information is on the MLHS website or Facebook page. Also, beginning Tues., Jan. 26, a regularly updated, recorded message regarding any MLHS vaccine updates can be heard by calling 320-532-2697. If you have questions about expected vaccine side effects, or other vaccine questions, visit the MLHS website (which has a link to all current CDC information).
Starting Jan. 19, some Minnesotans eligible to receive a COVID-19 vaccine were able to sign up for appointments at one of the state's nine community vaccination pilot clinics through a new website and call center launched last week by the State of Minnesota. The clinics will initially serve adults age 65 and older, as well as prekindergarten through grade 12 educators, staff, and childcare workers. 
Minnesotans age 65 and older can make appointments by visiting mn.gov/vaccine or by calling 612-426-7230 or toll free, 1-833-431-2053. Minnesotans should attempt to make an appointment online before dialing the call center. Available appointments will refresh every Tuesday at noon. Currently the Central Minnesota region's pilot program will be held in St. Cloud.
"Please be patient. There is not enough vaccine for everyone who wants it. If you cannot make an appointment now, you will be able to soon," said Minnesota Commissioner of Health Jan Malcolm. "Because this is a limited pilot program, vaccine demand is certain to outpace available doses at this time, and there will be a limited number of appointments available." Minnesotans are encouraged to remain patient as the state waits for more vaccine doses from the federal government. 
The MDH reported on Jan. 20 that all available COVID-19 vaccine pilot program appointments (nearly 6,000) for adults 65 years of age and older had been filled for that week. The site was down for a time due to overwhelming demand, and people are asked to keep trying if they can't get through right away.