MLHS begins construction
July 20, 2020
---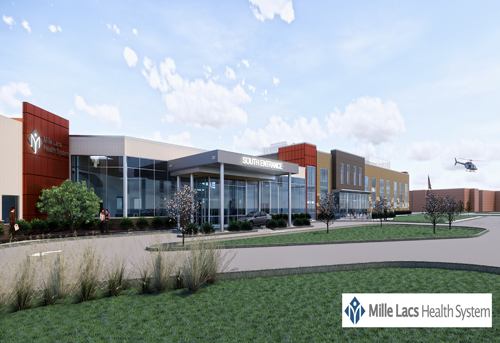 Mille Lacs Health System broke ground last week for their Next Chapter: Building Our Healthy Future expansion project.
Due to the Coronavirus, a large-scale, traditional groundbreaking  ̶  considered to be unsafe and not prudent by the MLHS board of directors  ̶  wasn't held.
The project, to be completed in 2023, is a $32.5 million expansion. The original hospital was built in 1956 and many areas of the hospital have never been remodeled.
"This day has been a long time coming," noted MLHS CEO Bill Nelson. "We knew this community needed the project to happen to ensure that our facility is viable and relevant, and remains the best place to give and receive care. But COVID-19 has made it clearly definite that our needs are more acute than ever. I thank all the people who have helped to make this happen, who unfortunately could not be a part of a traditional groundbreaking, but I know we can rely on their support as we move forward."
The building project includes modernization of some areas; additions to the hospital and emergency department; improvement of care spaces, such as a special women's health area in Rehab; and plans that will increase privacy to improve overall patient care.
"This expansion to our campus has been in the planning stages for over seven years," said Mille Lacs Health System Board Chair Kevin Anderson. "On behalf of the initial planning team, who did so much hard work at the outset; the entire board; and the many other individuals, groups, and employees that are stepping on board with us, this is a dream come true for the entire Mille Lacs Community. We believe the state-of-the-art facility will continue to provide our patients with the best care, and we are so very proud."
Construction progress will be tracked via a live cam, which will be available on the MLHS website soon.