New changes with COVID
August 24, 2021
---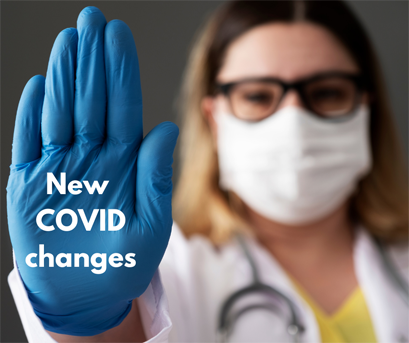 Just when we thought it was gone, the COVID blues are back with us again. Mille Lacs Health System is seeing cases rise, our county cases are increasing, and the Delta variant has not spared the area. For these reasons, the MLHS facilities are changing back to former visitor restrictions that were put into place earlier in the pandemic.
Effective immediately, there will be no visitors in the Emergency Room, the hospital (Acute Care), or the nursing home (Long Term Care). When coming to the clinic for an appointment, only one visitor is allowed with the patient. Keep in mind that with the MLHS construction, it is harder to ensure patients and visitors stay six feet apart from one another, so the less people in the waiting room, the safer it is for all concerned. Also, proper masks must be worn, from the time of arrival in the building to the time the patient leaves. Please do not expose our healthcare workers and providers to risk by removing your mask when in the building. Also, face coverings such as gaiters will not be allowed; if you do not have a face mask, one will be provided. With the quicker transmission of the new variant, it's even more important that other patients and MLHS employees are protected.
Minnesota Department of Health Commissioner Jan Malcom said in a recent press conference, "There's no doubt we are in the middle of another spike and it's due to the higher contagious Delta variant. The CDC data tells us that 90% of Minnesota counties are in the high transmission category." Malcom went on to mention that the total number of Minnesota hospital beds being used for COVID continues to increase. "And the issue with capacity is not just related to COVID. Our hospitals are also very full with other critical health needs, so the increase in COVID cases are a real concern."
The good news is that Minnesota has exceeded the Governor's goal of a 70% vaccination rate. The state will be visiting the issue of "third dose" vaccinations sometime in mid-to-late September, and MLHS will be providing more information on that at a later date. In the meantime, the two-dose vaccinations can still be given by making a nurse appointment at any MLHS clinic. And for questions about COVID testing, call the MLHS COVID Nurse Hotline at 320-532-2989.