New Family Medicine Provider
September 22, 2023
---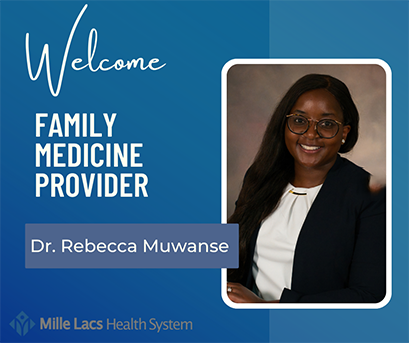 Mille Lacs Health System is pleased to introduce Dr. Rebecca Muwanse who recently joined us as a family medicine provider.
Dr. Muwanse is from East Africa. She's Ugandan, but grew up in Kenya. Living in Kenya she witnessed many struggles in the community due to the lack of preventative medicine and lack of management of chronic diseases. These struggles are what motivated her from a young age to get into medicine.
Dr. Muwanse left East Africa at 18 years old to attend Wellesley College in Massachusetts and study Biological Sciences. From there she did research at Harvard University which she enjoyed, but realized she was missing working with people directly. She went to medical school at St. George's University and completed her residency training at HCA|Tuft's University School of Medicine in New Hampshire.
It was in New Hampshire that she discovered her love for rural medicine. She enjoyed really getting to know her patients and the breadth of procedures and care provided in rural medicine.
When it comes to her style of care, Muwanse explains, "It is important for the patient & doctor to be partners. The doctor may be an expert in medical knowledge, but it is the patient who is a true expert in their experience."
Minnesota has been like a second home for Dr. Muwanse and her husband who have been visiting family in Minnesota for years. In her free time, Dr. Muwanse enjoys spending time with her husband and their family -  kayaking, watching movies, and riding her Peloton.
Dr. Muwanse is seeing patients in the hospital and in our clinics and is a wonderful addition to our family of care. If you'd like to schedule an appointment with her, call scheduling at 320-532-3154, press one.