Onamia Days Vaccine Clinic & MN vaccine rewards
June 7, 2021
---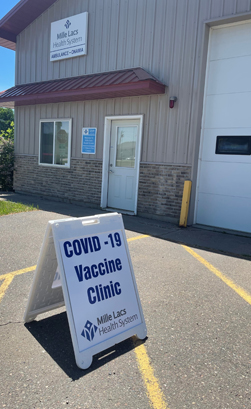 On June 1, MN Governor Tim Walz announced that the rewards request form for the 'Your Shot to Summer' vaccine incentive campaign is now open for submissions at mn.gov/covid19/summer. Minnesotans 12 years of age and older who have gotten their first COVID-19 vaccine dose since May 27, 2021 are eligible to fill out the request form and choose their preferred vaccine reward. Minnesotans can also sign up to receive a reward by calling (833) 431-2053 Monday through Friday 9 a.m. - 7 p.m. and Saturday 10 a.m. - 6 p.m.
Locally, you can take advantage of Mille Lacs Health System vaccine clinics held during Onamia Days at the MLHS Ambulance garage, located on Main St and Oak Street. They will be held: Fri. June 11th, noon to 6 p.m.; Sat. June 12th, 9 a.m.-3p.m.; Sun. June 13th,  10 a.m.-2 p.m.
"Requests are open and we're ready to give out some rewards," said Governor Walz. "We know everyone's excited to get to their summer plans — and if you get vaccinated now, we can help add another event to your calendar for free. Getting your shot now is easier than ever and the key to keeping our state safe for everyone. Help yourself, help our state, and take your shot to summer!" 
Rewards will be available for the first 100,000 requests made by eligible Minnesotans. Reward requests must be submitted to the Minnesota Department of Health by 11:59 p.m. on June 30, 2021, and will be fulfilled on a rolling basis. 
The Rewards list includes: Great Lakes Aquarium Pass, Mall of America Nickelodeon Universe Pass, Minnesota Fishing License, MN State Parks Vehicle Permit, MN Zoo Admission, Northwoods League Baseball Tickets, State Fair Tickets, Valleyfair Single-Day Admission, $25 VISA gift card.