Advance or start your career in healthcare
March 8, 2023
---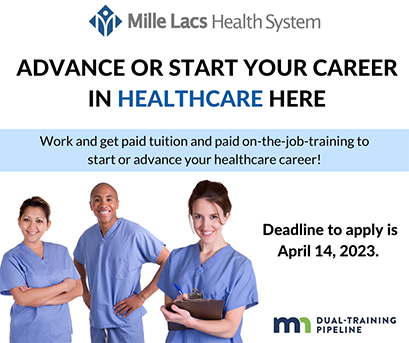 Mille Lacs Health System is excited about the opportunity to offer an "earn while you learn" program. In conjunction with the Minnesota Dual Training Pipeline grant individuals can earn or advance their degree in one of four healthcare related fields while earning a wage, and receiving money for tuition and required materials.
The healthcare degrees offered that are available with Mille Lacs Health System include: Licensed Practical Nurse (LPN), Registered Nurse (RN), Medical Assistant (MA), and Radiological Technician (RT).
The program is designed for the individuals to be working at or start at any position within Mille Lacs Health System before starting their degree work as early as the summer of 2023. The school year valid for this program runs from July 2023 – August 2024. Participants can receive up to $6,000 for tuition and books for up to 4 years or $24,000 max (applicants must reapply every school year, no guarantee year to year). One hour per week job shadowing is required with a staff mentor during your work schedule.
To apply for this program visit www.mlhealth.org and click on "Careers", then "Open Positions" and the listing "Advance or start your career in healthcare". When applying online, please submit a short essay explaining why you think you would be a great candidate for this grant. The deadline for applying is April 14, 2023. 
At Mille Lacs Health System we are committed to being the best place to give and receive care. We take the job of helping to keep our communities stay healthy and vibrant very seriously, and we'd love you to join our family of care. 
If you have questions, please reach out to Ann Flann, Recruiter at 320-532-2944 or aflann@mlhealth.org.