Colonoscopy – easier than it used to be
March 22, 2023
---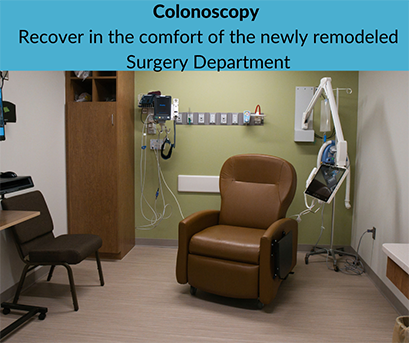 March is National Colorectal Cancer Awareness Month. Mille Lacs Health System is urging patients to get educated and get screened.
A colonoscopy is one of the most complete screening tests available for colorectal cancer. The doctor can see the colon and rectum using a scope on a flexible tube. It's safe, pain-free, and one of the best ways to screen for gastrointestinal diseases. 
Almost all colorectal cancers begin as precancerous polyps (abnormal growths) in the colon or rectum. Such polyps can be present in the colon for years before cancer develops. The polyps may not cause any symptoms, especially early on. Colorectal cancer screening can find precancerous polyps so they can be removed before they turn into cancer. In this way, colorectal cancer is prevented. Screening can also find colorectal cancer early, when treatment works best.
Whether you're due for your first colonoscopy, or you've had one or a few in the past, things might not be the way you remember them from ten years ago, or from what you've heard from others.
One recent update in just the last few years is the age for a suggested colonoscopy has dropped from 50 years old to 45 years old. The American Cancer Society reports that the lifetime risk of developing colorectal cancer is about 1 in 23 for men, and 1 in 26 for women.
Another improvement from years past is less fluid intake is required before the procedure. At Mille Lacs Health System, one 64oz Gatorade mixed with Miralax is all that is needed.
Ashley Remer, Surgery Supervisor explains that the goal of the Surgery Department is to make the experience as comfortable as possible. Remer says, "We've had many patients state that the experience was spa-like. With the use of essential oils, relaxing music, and the professional and caring staff patients feel at ease."
There is no time better than now to get your colonoscopy scheduled. Inquire with your provider if you're 45 years or older, or haven't had a colonoscopy within the last ten years. More frequent screenings may be needed for individuals who have had colorectal polyps or colorectal cancer, or have a family history of it. More frequent screenings may also be needed for individuals with inflammatory bowel disease such as Crohn's disease, or ulcerative colitis.
Most insurance plans cover the cost of screening, but to be sure, please talk with your insurance company about the details.