COVID changes and vaccine third doses
August 26, 2021
---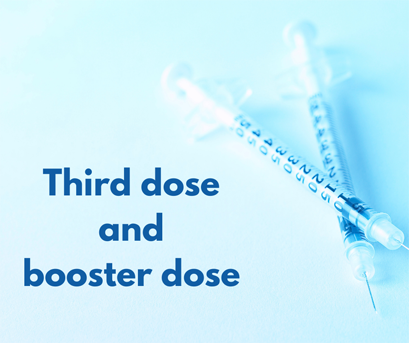 Updated 9/20
Just when we thought it was gone, the COVID blues are back with us again. Mille Lacs Health System is seeing cases rise, our county cases are increasing, and the Delta variant has not spared the area. For these reasons, the MLHS facilities need to alter visitor restrictions right now.
This is in flux, so be aware that if you are with someone who is in the Emergency Room, have a friend or family member in the hospital (Acute Care), or want to visit a resident in the nursing home (Long Term Care), the best idea is to ask a charge nurse or stop at the nurses station to find out what the policy is.  When coming to the clinic for an appointment, only one visitor is allowed with the patient. Keep in mind that with the MLHS construction, it is harder to ensure patients and visitors stay six feet apart from one another, so the less people in the waiting room, the safer it is for all concerned. Also, proper masks must be worn, from the time of arrival in the building to the time the patient leaves. Please respect these rules to protect patients, residents, and staff.
Mille Lacs Health System has started giving 3rd dose vaccines to patients who are immunocompromised. These patients can receive this dose 28 days after their last second dose of vaccine. Patients who fall into the immunocompromised category by state definitions are being sent letters regarding this 3rd dose. The 3rd dose vaccination for immunocompromised is available by making a nurse appointment at the Onamia clinic.
Beginning soon, a subset of other patients can get what's called a booster dose. Who qualifies for this booster dose is being decided on the federal level. These must be given no earlier than 6 months from the last dose in the two-dose series. Patients who qualify for this booster dose can make an appointment the same way, or get it at another scheduled appointment for another reason. Also, MLHS is planning combination flu shot/booster community clinics. Look for updates on this soon.
The 3rd dose and booster dose are the same thing (just called something different for different populations). The dose is the same and the vaccine is exactly the same. In both cases, the 3rd and booster doses should be the same type of vaccine you originally received (at MLHS that is mostly the Pfizer vaccine.)
For people who still need to be vaccinated, the Pfizer vaccine is now FDA-approved, and can be obtained in the same way at MLHS (nurse appointment or at another regularly scheduled appointment). All vaccines are given only at the Onamia clinic. For appointments, call 320-532-3154, press option 1.