Mental Health in the aging population
May 5, 2023
---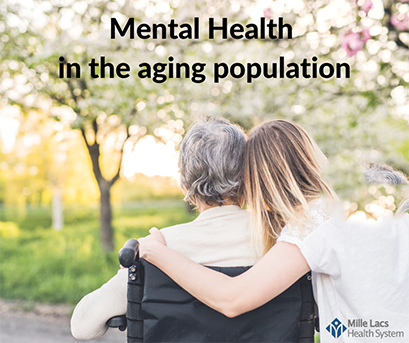 According to the 2020 National Survey on Drug Use and Health conducted by the Substance Abuse and Mental Health Services Administration, 16.9 million U.S. adults aged 50 and older live with a mental, behavioral, or emotional disorder. Unfortunately, symptoms of mental health disorders can be overlooked as "normal" signs of aging. Some signs/symptoms of mental health challenges may include social isolation, changes in appetite, aggression or agitation, confusion or disorientation, loss of interest in activities, unexplained physical symptoms such as pain and upset stomach, changes in personal hygiene, paranoia, and changes in sleep.
The Senior Care Unit (SCU) within Mille Lacs Health System is a 10-bed inpatient mental health unit for individuals aged 55 and older experiencing mental health difficulties. Referrals usually happen when family or other facilities that patients stay at see a decline in terms of behavior, such as, they are becoming too difficult to care for, the patient is neglecting to care for themselves, or can no longer care for themselves.
The interdisciplinary team at Mille Lacs Health System is skilled in understanding the physical and mental health needs of the geriatric population. The SCU is one of three units in Minnesota to specialize in behavioral disturbances. Alzheimer's disease and other forms of dementia are the majority of cases seen, but other conditions such as: depression, anxiety, schizophrenia, and Obsessive Compulsive Disorder (OCD) are also common. The Senior Care Unit accepts patients from all over the state. During their stay, patients are evaluated routinely by board-certified Psychiatrist, Dr. William Orr, and Sue Bikkie, Geriatric Nurse Practitioner, and hospitalists. Patients are cared for by the 24-hour nursing team. Discharge planning is handled by the unit social worker in collaboration with staff and family to fit the patient's needs. Discharge planning often includes assisting family with placing the patient into a living environment that will suit their needs. The Mille Lacs Health System nurses and social worker are actively involved in teaching loved ones about mental health, types of dementia, its progression, and possible outcomes.
A typical stay is from one to three weeks, but can be longer depending on the unique needs of the patient. An inpatient stay means the patient will remain in the secure unit while being treated. Oftentimes, symptoms need to be treated using medications. Dr. Orr and Sue Bikkie, GNP combine their years of experience to collaborate with the care team and come up with a combination of medications that are right for the individual. This process can take time and patience. Medications are started and changed in small increments to ensure the patient is getting just what they need. The unit has a scheduled routine for patients to provide structure and consistency during their stay. This schedule consists of three scheduled meals, and seven different group therapy activities throughout the day. Visiting hours are offered daily from 3:30 p.m. to 5:00 p.m. Patients can also use a unit phone to stay in contact with family and friends.