New LTC Visiting Guidelines
June 29, 2020
---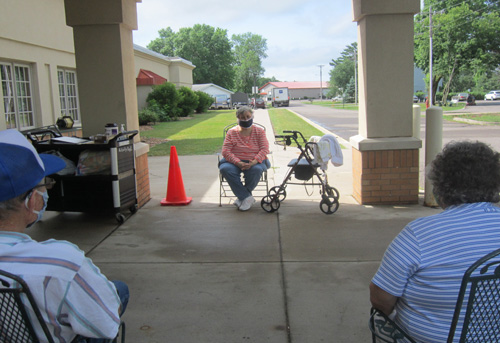 For the first time in months, Minnesotans who live in senior care facilities can meet face to face with their loved ones, provided their visits are outdoors. The Minnesota Department of Health released new guidance recently that allows outdoor visits at nursing homes and assisted living facilities under a strict set of guidelines. One of the most obvious features of the COVID-19 virus is how severely it affects the elderly. Death rates for older patients are markedly higher than for patients less than 70. In fact, about 70-80% of all of the deaths in Minnesota have been of older residents in nursing homes and other congregate living situations.
Mille Lacs Health System focused attention on preventing this illness for elderly patients in Long Term Care and at Lake Song Assisted Living. Measures were taken to prevent exposure of those residents to infection, from strict visitor limitations to quarantining new residents for 14 days. Face-to-face visits through windows for families and friends of residents helped to ease some of the isolation.
"As much as many parts of our society have begun to 'open up' after three months of relatively strict restrictions, this is not yet possible for our long term care residents," said Dr. Tom Bracken, MLHS Long Term Care Medical Director and Infection Prevention Medical Director. "The virus is still very active in our state, with peak amounts forecast for this fall in October. Our residents will not be safe until this virus is essentially gone, which will be well into 2021, or until we have a safe and effective vaccine."
Bracken went on to say, however, that MLHS will now be able to allow outdoor face-to-face visits for families and friends as of June 29. Visits will take place outside; visitors will stay 6 feet away from residents. All visitors will need to be screened (not tested) for signs and symptoms of COVID-19. Visits will be scheduled and limited to 30 minutes per visit. Physical contact, including hugging, kissing, and holding hands, will not be allowed during visits, according to state guidance. All families will receive a letter with details.
"We made this decision to allow outdoor visits very carefully," said COO Kim Kucera. "We are keenly aware of the need to balance the safety of residents with concerns about social isolation and loneliness. We have been so fortunate not to have had any cases so far in our nursing home or assisted living. We take these measures seriously and ask that families who want to visit are just as serious. An outbreak not only affects residents, but our staff as well."
"We all long for the day when we can worry less about this illness; better days are ahead," said Bracken.  "This doesn't replace everything we are missing but is a big step in the right direction to helping our residents be with their friends and families again."