Urgent Care vs. ER
August 15, 2021
---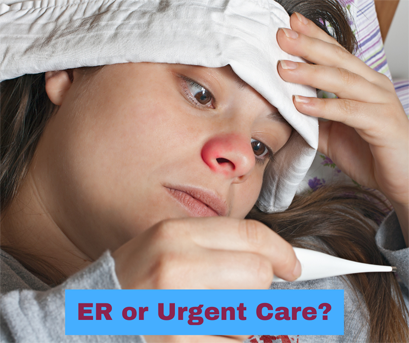 When you are sick or injured, you may need immediate medical attention. Often people struggle with knowing what the difference is between Urgent Care and the Emergency Room (ER) and which one they need when an injury or illness suddenly occurs.
The ER should be your first choice if an injury or illness appears severe or life- or limb-threatening. The Mille Lacs Health System ER is open 24 hours a day, so it is also the place for those middle of the night sudden severe illnesses, or pain.
Think of Urgent Care as something you might see your regular medical provider for but can't wait to schedule an appointment with them. Something that needs attention in 24 hours or less but not immediate.
It is estimated that 20% of all emergency department visits are non-urgent. When you go to Mille Lacs Health System Urgent Care, open 7 days a week, 8 a.m. – 8 p.m., you will be triaged by a nurse. If you're concerned whether your issue is an Emergency or Urgent Care type of problem, don't worry, you'll be assessed and given the proper level of care.
After hours, you may still visit our Emergency Department and receive care. Our ER is open 24/7. MLHS is a Level IV Trauma Center, and certified as an Acute Stroke Ready Hospital. If your medical issues require a much higher level of trauma or emergency care, an "air ambulance" (helicopter) can take you to a facility that specializes in that type of care.
Here is a guide to help you determine whether a problem requires Urgent Care, or the ER when you need immediate medical attention.
Urgent Care provides medical care for minor or non-life-threatening conditions such as: allergic reactions, rash, fever, sore throat, headache, wounds requiring stitches, minor burns or minor orthopedic injuries.
The ER provides medical care for major or life-threatening conditions such as: heart attack or stroke, difficulty breathing, severe burns, severe bleeding, poisoning/overdose, head injuries, high fever, broken bones & much more.
Throughout the pandemic MLHS has been here for you and continues to be even throughout our exciting Next Chapter: Building our Healthy Future expansion project. If you are in need of Urgent Care or ER, don't hesitate to visit us at our Onamia Campus offering both services. No appointment needed for Urgent Care.